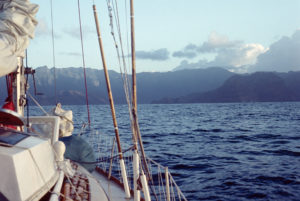 Note: The following is taken in part from my memoir, Sailing with Impunity: Adventure in the South Pacific.
We had been at sea for 35 days. Except for the day we left San Diego, we hadn't seen another boat. It had been just the two of us in a world surrounded by endless water. Like a little kid, I asked Bruce when we would "get there," reach the Marquesas Islands in French Polynesia.
"Oh, probably early Wednesday morning."
If that happened, I would be impressed with the exactness of his calculations. Without navigation know-how, you can miss an island by days, going right past it. If an island is more than 10 miles away, a small-craft sailor can't see it. To cross an ocean with no landmarks, using only the stars and sun for navigation, takes skill.
In any event, I had my sights set on Wednesday. I was ready to get there, to set foot on land, take a long walk, and drink something cold. Strangely, I also felt reluctance to again open our lives to others. We'd been in a world of our own and we were comfortable with that.
On Wednesday, as we approached the Marquesas, from miles away we were aware of the islands' aroma, a tropical arboretum rich with scents of earth tinted with tropical flowers and fruits. We passed north of Ua Nuka before approaching Nuku Hiva, the largest of the twelve Marquesas Islands.
As we neared land, dolphins greeted us with wild cavorting around Impunity's bow, slicing the water at extraordinary speeds. Our depth sounder was turned on and the dolphins kept setting off the shallow water alarm. We finally turned off the depth sounder since we had plenty of good light to see any obstacles. I stood in the bow, ready to signal Bruce if I saw any coral heads or changes in water color. I had to laugh at the dolphins' playful antics as they welcomed us to French Polynesia.
Bruce found a place to anchor among other boats in Taiahoe Bay, yachts from the United States, Sweden, New Zealand, France, Zambia in South Africa, Germany, plus a French Navy ship. The rattling of our ground tackle was a welcome sound as the anchor was lowered 28 feet into the bay.
We made it! We'd traveled 3,200 miles in 34 days. This was the first of many landfalls, but probably the most exciting. We'd proven to ourselves that Impunity was sail-worthy. And so were we.