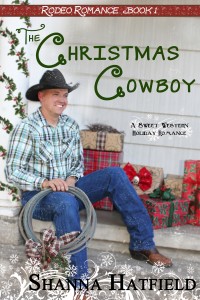 My blog guest today is USA Today bestselling author, Shanna Hatfield. Let's start our celebration with a book review of her novel The Christmas Cowboy.
When Kenzie Becket meets a fellow traveler at the airport, she's naturally attracted to him. Who wouldn't be? Tate Morgan is the epitome of a cowboy—attractive, impeccable manners, and a champion rodeo saddle bronc rider to boot. But she knows better than to do anything but admire him from a distance. She been burned from this type before, and she will never let it happen again.
Tate Morgan recognizes a class act when he sees one, looking so attractive, yet professional in her business suit. Tate learns Kenzie Becket is a corporate trainer for one of the most successful direct sales companies in the country. But she resists every attempt he makes to become friends.
Both coming from the Tri-City area in eastern Washington, they happen to meet several times in their various travels, he to rodeo events, she to meetings and workshops. Their attraction grows, and slowly Kenzie's reluctance begins to melt. She finds herself looking forward to running into Tate and disappointed when it doesn't happen.
But when she sees Tate in another woman's arms, she rebukes herself for thinking anything could come of a relationship with a cowboy. No matter what her friends say, no matter Tate's attempts at explanation, she's done. She should have known better in the first place.
Tate's hurt and confused with Kenzie's hostile attitude toward him. When an incident occurs that sends their lives spinning like a lariat, their world changes.
The Christmas Cowboy by Shanna Hatfield is a fun, lively way to kick off the Christmas season. The author writes with authority about rodeos, the corporate scene, and especially matters of the heart. The Christmas Cowboy is the first of Hatfield's Rodeo Romance series, followed by Wrestlin' Christmas, Capturing Christmas, and The Christmas Vow.
In the back of The Christmas Cowboy is information about one of the author's charitable interests: Justin Cowboy Crisis Fund (JCCF), an organization that provides need-based financial assistance to athletes injured through their participation in professional rodeo.
The following is from my blog guest, Shanna Hatfield, who will explain JCCF in greater detail.
Ring in the Holidays with a Helping Hand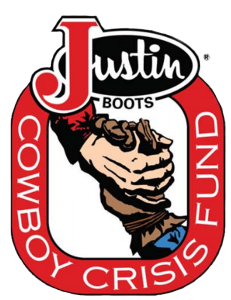 The idea for my sweet Rodeo Romance series started with The Christmas Cowboy, a story that invaded my thoughts while CC and I sat in the Las Vegas airport after the Wrangler National Finals Rodeo, waiting for our flight home.
Once I started writing the story, I did some research about what would happen if a cowboy sustained a serious injury at a rodeo. My research led me to the Justin Sportsmedicine Team® where one of the team members kindly answered my many questions. The team provides medical support services to professional rodeo athletes at rodeos across the country.
Beyond treatment at the arena, professional rodeo athletes can find help from the financial hardships that arise when they're unable to compete due to serious injuries. Many don't have a guaranteed salary or provisions for income upon injury. While injuries are part of the business of rodeo, financial worries don't necessarily have to be par for the course.
The Justin Boot Company formed a partnership with the Professional Rodeo Cowboys Association (PRCA) and the Women's Professional Rodeo Association (WPRA) in 1989 to establish the Justin Cowboy Crisis Fund (JCCF). The idea behind the JCCF is to assist professional rodeo athletes and their families in the event of catastrophic injuries resulting from professional rodeo activities.
Since my first encounter with the folks at JCCF, I've been impressed by all they do and how much they care about others, and decided to give something back to them.
November 1 through December 24, ten percent of the net proceeds from all my book sales will be donated to the Justin Cowboy Crisis Fund. Every book purchased during this promotional period adds to the donation total. Don't forget to add books to your Christmas shopping lists!
To kick off the promotion, I'm releasing two new books and celebrating with a party.
November 12, Capturing Christmas, the third installment in the sweet holiday western Rodeo Romance series, releases. Pre-orders are available today! http://amzn.to/1FC8ZQj
In addition, The Christmas Vow   , the fourth book in the Hardman Holidays sweet Victorian romance series releases that day. Pre-order your copy for only $2.99! http://amzn.to/1KQHhvI
Also, a party to celebrate the release and raise awareness for JCCF will take place from 10 a.m. to 2 p.m. (Pacific Time) November 12 on Facebook. Join in the fun with guest authors, games, and oodles of cool prizes. Here's the link to the party: http://tinyurl.com/cowboychristmasparty2
~*~
Convinced everyone deserves a happy ending, hopeless romantic Shanna Hatfield is out to make it happen, one story at a time through her sweet historical and contemporary romances. When she isn't writing or indulging in chocolate (dark and decadent, please), Shanna hangs out with her husband, lovingly known as Captain Cavedweller. This USA Today bestselling author is a member of Western Writers of America, Women Writing the West,  Romance Writers of America,  Sweet Romance Reads, and Pioneer Hearts.