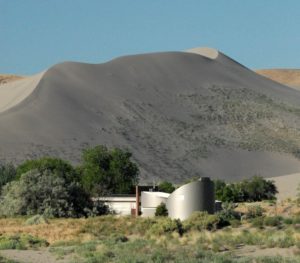 On a typical two-week vacation, we stay at a difference place practically every night. Traveling with a truck and camper, this is how we like to spend our vacations. The exception is the weekend between the two weeks. Then we usually try to spend Friday and Saturday nights in the same place, since a campsite can be harder to find on a weekend.
This year, it was our good fortune that we stopped at Bruneau Dunes State Park in southwest Idaho's high desert. With so much to do and see, it was a perfect place to spend two nights. The 4,800-acre park is the site of North America's highest single-structured sand dune, which is approximately 470 feet high. (North America's highest multi-structured dune is at Great Sand Dune National Park in Colorado and is approximately 660 feet higher than its immediate base.)
The dunes at Bruneau are unique in North America. While other dunes in the Americas form at the edge of a natural basin, the Bruneau Dunes form near its center. The dunes are ancient, probably forming with sands from the Bonneville Flood about 15,000 years ago. These dunes are fairly stable with winds blowing from the southeast and from the northwest. Unlike most dunes, these do not drift far.
No vehicles are allowed on the dunes, but visitors may climb and even zoom down on sand boards, similar to snow boards. Seven- and nine-mile horseback riding trails wind around the dunes. An equestrian overnight facility, with corrals, is also available.
We found the campsites spacious with grassy lawns and shade from willow and cottonwood trees. Eighty-two sites have water and electricity, plus there are 31 standard campsites. Two cabins are available for rent.
The park contains several habitats: desert, dunes, prairie, lake and marsh. Wild predators, which are protected within park boundaries, maintain a natural balance of animal population. Fishing for bass and bluegil is popular. It's a peaceful lake with only non-motorized boats, canoes, rafts and float tubes allowed.
A big attraction at this park is the Steele-Reese Education Center, which includes an observatory. At dusk each Friday and Saturday from April through mid-October local astronomers present a multimedia introduction to the night sky in the comfort of an indoor auditorium. Once the stars begin to twinkle, visitors can observe through the rotating observatory planets, galaxies and nebulae, which I learned is a cloud of gas and dust in outer space. Visitors can observe the night sky through a collection of other equipment, including refractor and catadioptric telescopes.
Bruneau Dunes State Park is just south of Mountain Home, the county seat of Elmore County, and the home to Mountain Home Air Force Base. Mountain Home is a good place to provision and it also has one of the largest laundry facilities I've ever seen.
If you're in southwest Idaho, plan to stop by Bruneau Dunes State Park. It's a special place.