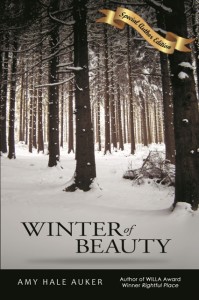 Winter of Beauty by Amy Hale Auker brings readers right into the dust and grit of contemporary ranch life. Shiney, ranch owner since the death of her father, and Monte, the foreman, run a large ranch with the help of a handful of colorful characters, people I came to know and care about. Their motto seems to be "live and let live," but when there's trouble, each and everyone puts aside his or her own comfort to give a helping hand. Winter of Beauty is a fine, heart-felt novel of depth. Hale, an award-winning author, knows what she's talking about. She lives, works, and writes on a large ranch in Arizona where her husband is foreman.
Today, my guest is the author of Winter of Beauty, Amy Hale Auker. Welcome, Amy. Please share your writing philosophy to give us some insight into how you perceive your writing experience.
Amy Hale Auker:
I found out a hard truth about myself in 2006. I found out that while I can write and I love writing, I am terrible at waiting for a manuscript to be published. I am impossible to live with while going through the long slow slog of seeing a book come into print. (And I was great at being pregnant, so go figure!)
When my new husband and I were first together, I was waiting on my first book to go through the academic review process at a university press. The glacial pace was driving me crazy. He suggested that (duh) I write something new. He commented, "I read to be entertained. Go look at our shelves." We had just combined libraries and we had duplicate copies of several much loved books. I did my survey on a snowy afternoon, and I still remember the light filtering in through the windows. What I found on our shelves were… novels. Fiction. Volume after volume of fiction. Some great, some not so great. So I set out to write a novel. And I did! I wrote a novel called "The Story is the Thing." "Story" has not found a home yet, but I was hooked. I was hooked on the idea of writing characters who could do and say anything I needed them to, and often, took over the story to say and do what they wanted!
Immediately upon finishing the third or fourth draft of "Story," I started writing "Winter of Beauty." I did not know what "Beauty" was going to become, but I knew that I wanted certain elements in it. I wanted the mountain, the land, to be a character in the book. I wanted to explore the idea of belonging. I wanted to write Jody Neil and Delbert Lincoln's relationship. I wanted to bring Sunshine Angel Lewis to life. I wanted to explore an issue that every novelist encounters: names. The idea of giving characters names and how that shapes them. The first draft of "Winter of Beauty" was terrible. With this book I learned the power of the rewrite. I learned the craft of weaving plot and characters together. I learned the value of research and outside voices to augment authenticity. I learned that I can cut characters completely out and promise them a book of their own. I learned that not everything has to be wrapped up neatly and tied with a bow.
I learned that shifting gears between essays and fiction and poetry is therapeutic, like cross-training is for an athlete.
I learned that I can't not write.
Thank you, Amy. After reading Winter of Beauty, it's clear to me that your writing is a passion fulfilled.
Winter of Beauty will be officially released October 15 and available through regular book channels. In the meantime, a Special Author Edition is available through Amy Hale Auker's website: http://amyhaleauker.com/.