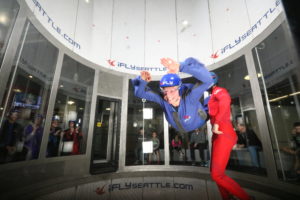 Our family looked forward with anticipation to our iFLY Indoor Skydiving date. There would be ten of us, a "party package." The closest iFLY facility was iFLY Seattle, which really is in Tukwila, by Southcenter Mall.
We all arrived at the appointed time, one hour before flight time. We checked in individually at computer terminals. At that time we declared our fitness and our understanding of the health restrictions. For instance, the weight limit is 300 pounds, and people with histories of heart issues, back injuries or shoulder dislocations should not attempt this sport.
After check-in, we watched the previous group, a valuable experience. We gathered around the glass-encased flight chamber, a vertical wind tunnel. The tunnel has fans at the top to draw air through the flight chamber. The air is then pushed back down the sides through return air towers and repeatedly pushed through the flight chamber. The result is a smooth column of air that enables flight.
According to iFly's website: "The invention of modern wind tunnels has given skydivers a consistent and practical way to develop and hone skills that usually require jumping from a plane. Additionally, the increase in availability of wind tunnels has created a whole new genre of sport: bodyflight. It is one of the most exciting and fastest growing sports in the world."
We were all beginners, but the instructors at iFly can train people interested in bodyflight to pursue the sport and even go into competition.
As we watched, I realized it was nothing like I expected it to be. I had envisioned us all flying around a room. But it was clear that an instructor needs to be with you at all times, and he takes one only person at a time. Further, I expected to keep my body in a straight horizontal line, but as I watched, I saw that participants arched their body to form sort of a "V." I could see why people with back problems might want to avoid this sport.
After watching the previous class, we were ushered into a classroom and briefed on what we should expect. Our instructor David went over hand signals, maneuvers, and explained the equipment we would use.
I was amazed with the amount of gear. We were instructed how to insert earplugs. Flight suits were furnished, equipped with "handles" for the instructor to grab. We wore our own closed-toe shoes. Goggles were adjusted to our faces, then helmets issued to protect our heads. I wondered how many people "bailed out" at this stage. We all hung in there, game for the adventure.
We sat just outside of the chamber, facing a new crowd that would follow our party. One at a time we went in with David. I was amazed at the strength of the wind. He instructed each one of us the "basics" ensuring that we understood the rudiments of the sport. Then, one at a time again, we had our second round of flight, this time more advanced and going aloft, the equivalent of 2 stories high. I found it exhilarating.
After everyone had gone through the process twice, we watched as David performed some impressive bodyflight maneuvers. We had a long way to go if we wanted to achieve that level of proficiency.
Our iFly date was fun—another great family adventure. To learn more about iFly, visit https://www.iflyworld.com