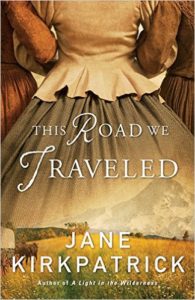 Jane Kirkpatrick has written another memorable work of historical fiction, The Road We Traveled, which takes place in the mid-1800's.
When Tabitha Brown's son, Orus, returns from the Oregon Territory and announces that the whole extended family should return with him, Tabitha is excited. It's daunting, but she's game. But when she learns that he feels she's too old, too lame to go, she's incensed.
As it happens, her late husband's brother, John, comes to visit and the two of them decide to partner and join the Oregon-bound party, despite her son's objection. Not everyone in the family is happy about leaving their homes, but they succumb to Orus's insistence. They pack only absolute necessities, leaving their homes, family treasures, and friends.
As the family travels west, together with other Oregon-bound families, they encounter difficulties they never imagined. On foot much of the time to lessen the strain on stock, at times without adequate food and water, they face trials that test their endurance, courage and faith.
When a part of the group hears of an alternate route, a short-cut, they agree to take it, not realizing how difficult it will be. During this period, Tabitha's real courage is tested as she and John leave the starving families to venture even deeper into the wilderness to seek help.
The Road We Traveled by Jane Kirkpatrick is based on the true character, Tabitha Moffat Brown, a pioneer woman whom the Oregon State Capitol honors as "The Mother of Oregon" for her charitable and compassionate work in Oregon's early days. The impeccably researched historical novel is rich in setting and the events surrounding the hardships of the Oregon Trail, and the early days of what would become the 33rd state of the Union.
I was delighted when the characters in The Road We Traveled linked with other true characters from Jane Kirkpatrick's previous novels, such as Letitia Carson (A Light in the Wilderness) and Eliza Spaulding (The Memory Weaver).
I've always loved stories of the Oregon Trail. The Road We Traveled stands among the best.
To learn more about the author, visit jkbooks.com.