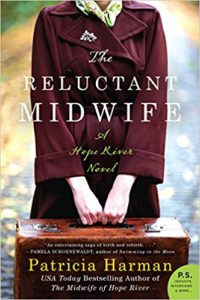 Patricia Harman's wit and wisdom shine through with this Great Depression era novel that takes place in hard-hit West Virginia.
Nurse Becky Myers finds herself the caretaker of Dr. Isaac Blum, a doctor she's worked with for seven years. When the doctor's wife dies a tragic death, he goes into a catatonic state, unable to speak or take care of himself. His family will not take responsibility for him and Becky sees no alternative but to care for him herself. Now unemployed, she soon runs out of money and decides they should go to his home in Liberty where at least they'd have a house to live in. When she finds his home has been sold for back taxes, they're stranded with very little money and no place to stay.
Fortunately, an old friend, Patience Hester, the midwife for Hope River, and her husband Daniel, a veterinarian, let Becky and Isaac stay in their old abandoned house. Although Becky is a trained nurse, she is not comfortable assisting at childbirth, but when Patience becomes ill, Becky must take over her friend's midwife's duties. Because he can't be left alone, she takes Dr. Blum with her. It's not ideal, but at least they're not starving.
Money is scarce and more often than not midwifery is paid with a chicken or something from the garden. For awhile Becky delivers groceries for a bit of income, but when that position dries up, she applies and is given a job at a nearby CCC (Civilian Conservation Corps) camp.
The Reluctant Midwife is an engaging, well-told story. The author, herself a midwife, writes of childbirth with expertise. She paints a bleak picture of the Depression era, but also praises the way people pulled together. The relationship between Becky and Isaac develops in a surprising way. I found the CCC details fascinating and admire the significant contribution they made at a time when living conditions were so desperate for so many.