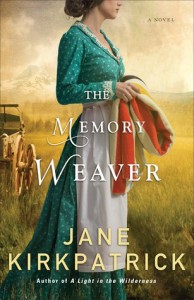 Jane Kirkpatrick's latest novel, The Memory Weaver, weaves a poignant story of the mid-1800's in Oregon and Washington Territories. Based on true events, this historical novel reveals the life of Eliza Spaulding, the daughter of missionaries who worked with Native Americans at the time of the Whitman massacre, near what is now called Walla Walla, Washington. At the age of ten, she witnessed horrifying sights during the massacre.
The story begins when Eliza Spaulding, thirteen, is grieving the death of her mother in Brownsville, Oregon. Her mother was beloved by all, whites and Indians alike, and was known for her keen mind, her ability to speak in Native tongues, and for teaching the word of God in artistic, innovative ways.
Eliza's memories of the massacre are full of dark thoughts of death and betrayal. The mission was seized by the Cayuse and Eliza was one of several who were held hostage. At ten, she, too, could speak Sahaptin, the language of the Nez Perce and other tribes of the region, and during the siege on several occasions was asked to interpret. After the British paid a ransom for the survivors, the missionaries were ordered by the Mission Board to leave, causing great bitterness and disappointment to the Spauldings and to newly baptized Native Americans.
Throughout the novel are excerpts from Eliza's mother's diary, a document Eliza wouldn't have an opportunity to read until years later.
After her mother dies, Eliza is expected to take on the role of keeping house, cooking, and caring for her younger brother and two sisters. She manages the house and family well, but is often in mental turmoil with frightening memories of the massacre, and she still suffers from her mother's death. When, at age fifteen she leaves to marry Andrew Warren, it is without her father's approval. The newlyweds set up a homestead in Brownsville, Oregon.
Andrew acts on a ranching opportunity in Washington, near where the massacre occurred. Eliza is torn between staying on their homestead with the children or going with her husband, which would mean returning to the land of her captivity.
Later, when details of the massacre are revealed, Eliza is shocked to learn that her recollections are only part of the story. She remembers only what a child of ten could absorb.
I loved this novel. I found myself thinking about my own memories and wondering how distorted they might be. Kirkpatrick has a way of touching the heart with words and there were times I read through tears.
Jane Kirkpatrick is the author of many historical novels. The Memory Weaver is among the finest, but I've probably said that about all of them.
To read more about the author, visit www.jkbooks.com