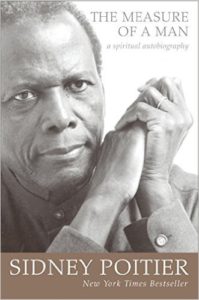 Sidney Poitier is a long-time favorite of mine. I've seen all his well-known movies and have admired his achievements. His book, The Measure of a Man: A Spiritual Autobiography is an engrossing read.
Born on Cat Island, a primitive island in the Bahamas, Poitier had a childhood of freedom and love, blissfully unaware of how poor in material things his parents were. When the family's livelihood of growing tomatoes was no longer an option, they moved to Nassau and he was suddenly plunked down in a world of cars, movies, running water, electricity, white people and the resulting race distinction. He got into trouble and was sent to his older brother's home in Miami, Florida. It was in those years he realized how ignorant he was, how slim were his chances of succeeding. He could barely read; was lucky to get dish washing jobs.
Poitier moved to Harlem, New York when he was 16. His acting career in live theater happened almost accidently, but he realized this was where he belonged. The old adage "when the student is ready, the teacher appears," is an apt description of his break-through. But in the 1950's, acting opportunities for blacks were stereotyped. He moved to Hollywood and managed to get roles, supplementing his income with restaurant work. After several minor roles, he and Tony Curtis starred in The Defiant Ones, a box-office hit. In 1964 he was awarded an Oscar for Lilies of the Field, Hollywood's first Best Actor award to a black man, followed by To Sir with Love, Guess Who's Coming to Dinner, and In the Heat of the Night. Although these movies were met with success, they were thought to be atypical of black people. The three movies were made in the height of race riots and bigotry. Blacks resented that the movies didn't portray the average black man, that the roles he played were non-threatening to white audiences, and even smacked of "Uncle Tom."
After fifty years in Hollywood trying to portray life, Poitier learned about life. Seventy-two years old when he wrote this book, his reflections encompass a part of our country's greatly changing history.
Poitier concludes his autobiography with an awareness of his perception of self, of others and of the world. Although the book's title suggests spirituality, I found it
engrossing and thought provoking, but not necessarily spiritual. I enjoyed the book, even more so since I have seen most of the movies he discusses.
For an in-depth look at Sidney Poitier, read The Measure of a Man: A Spiritual Autobiography. Even if you aren't necessarily a fan (really?) it's an interesting study of the times.