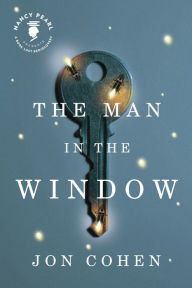 Nancy Pearl, my favorite literary critic, said after reading The Man in the Window, "Here was a novel to love." And indeed it is. Author Jon Cohen has captured the essence of life in this poignant, funny and often caustic novel.
Louis Malone, now 32, badly disfigured in a fire when he was 16, became a recluse, hidden away in the family home. His world was what he could see from his upstairs bedroom window.
Iris Shuda, an extremely capable nurse, was resigned to never finding love. As Cohen describes her, Iris had been an unappealing baby, and as it turned out, that was her physical highpoint.
Gracie Malone, Louis' loving mother and a recent widow, is not yet used to living without her husband, and now her son is her whole world.
Widower Arnie Shuda, Iris' father, is a rough and tumble sort of guy, full of earthy humor. His right hand is a hook and he openly jokes about it.
The Man in the Window develops these four characters with such living force, I felt I knew them, that they were my neighbors. The hospital scenes with Iris are so realistic I wondered how the author knew so much about medicine. But then I learned that Jon Cohen was at one time a critical care nurse.
When Louis falls out of his second-story bedroom window, he and Iris are brought together. And then, along the way, their parents meet.
The Man in the Window is a marvelous, well developed, heart-rending love story. I loved it so much I dreaded reaching the end.