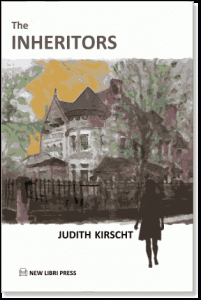 The Inheritors, a novel by Judith Kirscht's (New Libri Press), offers thought-provoking views of challenges and conflicts between nationality, class and race.
Alicia Barron attends the funeral of her dearest girlhood friend, the friend's husband and their child who were killed in an automobile accident. Although once as close as kin, she finds herself an outsider now, not only to this family, but even to her own mother. This animosity dates back to Alicia's college years when she participated in the violent Vietnam War demonstrations.
Raised Latino, Alicia never knew her Chilean father who was killed in Korea before she was born. With her dark hair and eyes, she never suspected she was anything but Latino. Even when asked, her mother didn't share information about her own background, but simply lived in the moment. Alicia and her mother were a pair without history, without relatives, but still, her mother insisted, were a family.
After a long absence, Alicia has returned to the working-class Chicago community where she was raised and she teaches at the same elementary school she attended. Alicia and fellow teacher Ricardo Moreno are in love and share many of the same interests.
Alicia inherits an old, run-down mansion, an estate left by a Chicago industrialist whom she eventually discovers was her grandfather, her mother's father. She learns that her mother was the daughter of an Italian woman and a white father. Delving into her past, she discovers a line of women who fought and overcame the battles of nationality, class and race.
When she shares her discovery with Ricardo, he is upset and wants her to reject her gringo roots. Their love is threatened and Alicia must decide what path she will take. Should she investigate further and work with her new status? Or, should she follow Ricardo's desire and pretend she never made the discovery?
The Inheritors is a well-researched book, written about bias, though without bias. It was an eye-opener to me to learn views of some Latinos who live in a diverse, industrial city like Chicago, at least how it was in the 1960's and 1980's. Kirscht handles flashbacks smoothly, giving plausible reasons for misunderstandings and conflicts. This is an important novel that reveals views from a fresh perspective.
The Inheritors is currently available as an ebook and is scheduled to be published in print in the fall. To learn more about the author, visit www.JudithKirscht.com.