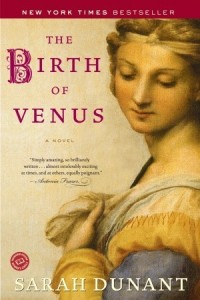 The Birth of Venus (Random House) by Sarah Dunant is an engaging novel set in Florence, Italy during the Renaissance period in the late 1400s. Written in first person, the craft of writing is at its best, taking us into the depths of the subject's soul.
Precocious Alessandra Cecchi, fifteen, is fascinated by art. Tutored with her older brothers and sister, she has many cultural advantages as the result of her father's business acumen and high stature in the community. When her father brings home a painter from Northern Europe to decorate their private chapel, Alessandra is thrilled by the young man's artistic abilities. She attempts to venture into his world, but when rebuffed by his apparent disinterest, she is even more attracted to both the man and his art.
Alessandra's dreaded "coming of womanhood" presents the inevitable marriage to a person of her parents' choosing. Cristoforo Langella, an older, wealthy man, and Alessandra marry when she is barely sixteen. But Cristoforo has an evil secret that clouds their marriage.
In the meanwhile, the luxury, love of learning and fine art in the region is being threatened by a fundamentalist facet of the church. Florence is plunged into violence, fear and political change. A plague further weakens and frighten the bewildered citizens.
The Birth of Venus recreates a past world with vivid descriptions of art and attitudes. Dunant writes with exquisite detail, allowing the reader to dwell in the heart and mind of Alessandra over a period of her lifetime. The Birth of Venus is an unforgettable novel.