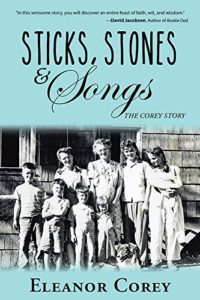 Eleanor Corey, the seventh child of ten children, has written a remarkable family history of the Corey family who lived on the Olympic Peninsula in rural Washington State.
Arthur Corey, a preacher, paid $28, the amount of over-due taxes, for an old drafty grange hall he converted into a home. The year was 1937, toward the end of the Depression, and times were tough. He moved his wife, Margaret, and three daughters into the old derelict building situated on rough acreage, and they did what they could to make it into a home, a home without insulated walls, or running water, and with an outside toilet where catalogs were used instead of toilet paper. Despite these hardships, it was a home of love and unbridled faith.
The story takes us through the pains of poverty in terms of money, such as subsisting on canned green beans three days in a row, but also on the richness of accomplishment through faith and hard work. Clothes were made from the material gleaned from missionary barrels, food often received as charity, tools fashioned from bits and pieces. Nevertheless, the Coreys were rich in their faith, in their love for one another, and in their music. Gradually their living conditions improved, the land became bountiful through the family's grinding toil, most often accompanied by singing.
Through their hard work and dedication, the children became resourceful, leaders of their classes at school, involved in community musical activities, and generous with their time and talents. Their father's powerful faith and their mother's constant love and attention instilled in the family the lessons of sharing and serving.
Sticks, Stones & Songs: The Corey Story is an inspiring, well-written account scanning from a 1937 bare-bones beginning to a glorious 1979 family reunion that brought members scattered from six countries, many serving in humanitarian projects, and ending with a 2014 epilogue. I feel enriched having read about the Coreys and I highly recommend this heart-warming family history.
To learn more about the author, visit  http://www.eleanorcorey.com