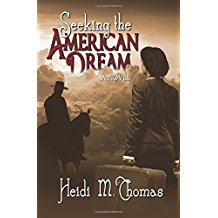 Heidi M. Thomas' Seeking the American Dream, is a heart-felt novel based on her mother, a German war bride.
The story begins in war-ravaged Germany, 1944. Anna Schmidt, a nurse, deals with the horrors of war as she tends the wounded, and as she sees her homeland destroyed by incessant bombing raids. When she meets American G.I. Neil Moser, there is an immediate attraction. Although Anna speaks no English, Neil speaks German so they are able to communicate. She admires his calm demeanor, and she loves listening to his stories of Montana ranch life. When Neil is suddenly shipped out, Anna is left with little hope and a yearning for what might have been.
When Anna receives a letter from Neil declaring his love and a proposal of marriage, she is overjoyed. But the two-year ordeal of emigration procedures make the dream seem almost impossible. Finally, she arrives in Montana and into Neil's arms.
But the truth is, her problems are only beginning. She meets hostility and prejudice among some of their neighbors. Eastern Montana is a hard land, so vast that their closest neighbor is miles away. Long, harsh winters, spring floods, and sweltering summers make daily living a chore. The lack of household conveniences available in Germany, such as indoor plumbing and electricity, add to their hardship. At first they live with Neil's parents and Anna feels unaccepted. But through it all, Neil is gentle and patient.
The couple eventually moves to their own ranch and start a family. But the hardships continue—running a ranch is brutally hard work. When sickness strikes, their existence is threatened and Anna fears her American dream is crumbling.
Master storyteller Heidi M. Thomas grew up on a remote Montana cattle ranch, which adds authenticity to her stories. Thomas' descriptions of Montana's landscape, weather, and the mindset of neighboring ranchers bring scenes to life. I very much enjoyed Seeking the American Dream which is the first book of Thomas' new "American Dream Series."
For more information about the author and her work, visit http://www.heidimthomas.com/