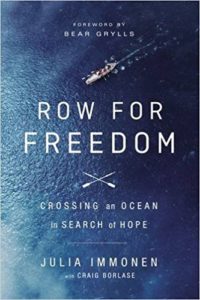 Julia Immonen's memoir (written with Craig Borlase), Row for Freedom: Crossing an Ocean in Search of Hope, is a prime example of grit, determination and spirit offered for a worthy cause. When the author learns of the horror of human trafficking, she is determined to raise awareness of modern-day slavery.
Julia and four other women pooled their energy and resources to row across the Atlantic Ocean from the Canary Islands to Barbados. After extensive preparation, they set out to row 45 days to cross 3,000 miles of the Atlantic Ocean.
For six and a half weeks this group of women lived in a 29-foot boat, an amazingly small boat to carry 5 people. Below decks were 2 small cabins–each about the size and shape of a coffin. Their sparse belongings were stowed in tiny cubby holes. The crew rowed around the clock in two-hour shifts. It was exhausting, demanding work, and at one time or another all the women suffered from debilitating seasickness, chafing made worse by stinging salt water, sore wrists, painful ankles from the foot slides, and aching hamstrings. Julia handled the pain and discomfort by thinking of the estimated 27-million people trapped in modern day slavery. She rowed for them.
On the boat, one system after another failed, beginning on the second day when the battery tester failed, followed by almost daily failures of other systems including the desalinator used to convert salt water to fresh. Even the boat itself developed tiny holes that had to be repaired at sea.
They completed what they set out to do: spread the word about the horror of human trafficking, establish a new Guinness World Record for the first female crew of five to row an ocean. One of the crew was the first Irish woman ever to have rowed the Atlantic, and Immonen was the first Finn ever to have rowed an ocean. Although she realizes that their actions were infinitesimal in the face of the world-wide problem of trafficking, the author is comforted by a quote from Mother Teresa: "do small things with great love."
Before their epic journey, Julia worked in the television industry putting together television programs. She had the know-how and skills for effective media. Now that knowledge would be put to work with live interviews to call attention to their feat and the reason behind it–making the world aware of human trafficking.
Row for Freedom is an exciting, worthwhile read. The author's determination
and the team's endurance is impressive. The physical hardships, the separation from families, the endless challenges of the boat's integrity–all make this a worthy and memorial book.
To learn more about the author and her cause, visit www.sportforfreedom.org/