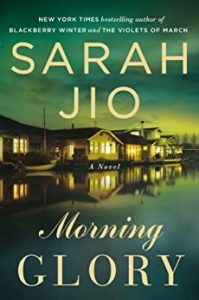 Author Sarah Jio takes her readers to a house boat community on Seattle's Lake Union. Morning Glory was a fun novel for me as I vicariously revisited Lake Union houseboats and a part of Seattle I know so well.
Ada Santorini tries to find a new life after the tragic death of her husband and young daughter. She rents a furnished houseboat and discovers not only a new lifestyle, but an unsolved mystery that occurred a half-century earlier.
The story toggles in first-person accounts between Ada and a former resident of the houseboat, Penny Wentworth, the young wife of an established artist. Ada is intrigued when she discovers an old wooden chest left by Penny. The chest offers just enough clues to keep Ada on track to unravel the mystery of Penny's disappearance.
Some residents on Boat Street remember Penny, but they are closed-mouth and avoid the subject when Ada asks. Ada and Penny's stories come full-circle in a surprising revelation.
Sarah Jio is a best-selling author of several books and an acclaimed journalist of major magazines. For more information about the author, visit http://www.sarahjio.com/