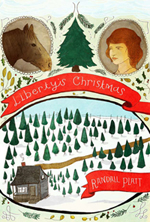 Liberty's Christmas by Randall Platt follows the unpredictable path of teen Liberty Justice Jones. An unusually bright girl, Liberty says of herself, "A brain like mine requires strict control."
When Liberty gets even for a trick played on her, she finds herself in deep trouble, at school and at home. The Great Depression has hit Texas hard and the family struggles to make ends meet. In fact, they're losing the battle. Their home and tree farm are being threatened with foreclosure.
Liberty has a plan, but like many of her plans, she hasn't worked out all the details. If she could only win a Christmas tree contest being held in Austin, the prize would solve many of their problems.
When her prize tree is "accidently" cut down and hauled away with other trees, Liberty takes drastic action, getting herself and her companion in ever-deepening trouble.
Liberty's Christmas shows the hardships of the Depression in vivid detail. It was a tough time for many, particularly those already on the edge of poverty. But through it all, a teenage dynamo is determined to make life better for her family. Humor, love, compassion, and resourcefulness bring this book to the forefront of excellence. The book's glossary identifies regional expressions of the 1930's.
Reviewer's Note: I was present when Randall Platt received the coveted WILLA Award for Children's/Young Adult Fiction & Nonfiction at the Women Writing the West conference in Kansas City, Missouri. When accepting the award, the Northwest author shared that Liberty's Christmas originally took place in the Northwest, known for its Christmas trees. However, when Texas Tech University Press accepted the book for publication, they requested that she use a Texas setting, explaining that yes, Texas does indeed grow Christmas trees. The resulting regional research involved is a tribute to Platt's creative talents and dedication to her craft.