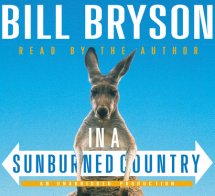 If you've always wanted to go to Australia but haven't had a chance, reading In a Sunburned Country is the next best thing. Bill Bryson presents a thorough and humorous look at a country that remains mysterious to most of us.
As Bryson goes off the beaten track to thoroughly explore this vast country–the cities, the deserts, the outback, the tropics–he takes the reader along, even when conditions aren't that comfortable or convenient.
It's obvious that Bryson loves Austrailia and I've now had the pleasure, through him, to appreciate its uniqueness. His historical and trivial facts are enlightening and enrich his story.
Although he's not the most organized traveler, it's fun to laugh at Bryson's ineptitude and his ability to poke fun at himself. During his travels, he has at times a sidekick and those encounters add spice to the adventure.
I especially enjoyed vicariously visiting places so often mentioned such as the Great Barrier Reef, Alice Springs, the Gold Coast. At times I laughed out loud with his historical asides, observations, and wry humor. Bryson doesn't strictly stick to the usual touristy cultural icons, but delves into the weird and wacky, too.
Reaching many of the remote places involves hours of travel by car. Searching for a radio station for distraction to while away the miles, Bryson finds only one station, a cricket match. His description of that match is hilarious.
If you want to learn more about Australia and have some good laughs along the way, read In a Sunburned Country. It's a treasure.