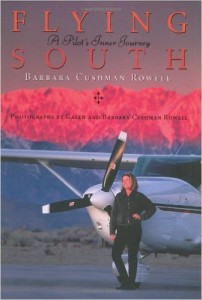 Already a woman of many accomplishments, Barbara Cushman Rowell embarked on the greatest adventure of her life. Together with her husband, world renowned adventurer/photographer Galen Rowell and her younger brother, Barbara Rowell set out on an epic aviation adventure.
Leaving Oakland, California in November,1990 Barbara Rowell flew south in her single-engined Cessna 206 to Central America, then on to Patagonia at the southern end of South America. Along the way, she dropped off first her husband so that he could fulfill a climbing and photography assignment for National Geographic magazine, then her brother so that he could return to his business in the United States. Along the way she picked up two or three other passengers, some who fulfilled the role as co-pilots, some just along for the ride. She completed the flight in February,1991.
Barbara Cushman Rowell had previously logged 700 flying hours as a pilot, but was also licensed for instrument flying. I loved the "pilot speak" with explanation enough to understand the gist and complications of a pilots life. The book also contains a helpful glossary. Photographs taken by Barbara and Galen add immeasurably to the book's 302 glossy pages.
The memoir has vivid descriptions of aqua-blue bodies of water, impenetrable jungles, sparkling Mayan ruins, vast deserts, colorful markets, and cities sometimes not so friendly. She also shared the difficulty in some countries of getting through customs, airline paperwork and dramatically increased fees, and landing in a country in the midst of a coup.
Along the way, we see Rowell grow in confidence as an individual, not as someone's wife, especially someone as famous as Galen Rowell. She realizes that most of her life she acquiesced to men's will or desires. For example, a male friend scheduled a rafting trip for them on the Bio Bio River in Chile. Although she didn't want to go, she consented, with disastrous results.
Barbara had her share of fears: fear that her plane would have mechanical problems (it did), fear of having to fly in bad weather (she did), fear of having to land under adverse conditions (that happened, too), but she learned to recognize her fear as a biological warning to pay attention.
Flying South is an extraordinary memoir, one that held me captive. I recommend this book not only to anyone interested in flying, but to anyone who longs to test herself, to stretch her limits. Barbara Rowell's candid writing rings with honesty and character.
Note: Flying South had just been published when, on their return trip from Alaska, the charter plane in which Barbara and Galen Rowell were passengers crashed. There were no survivors