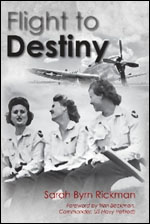 Sarah Byrn Rickman has again demonstrated her knowledge and expertise in young women aviators who flew military aircraft in support of World War II. In Flight to Destiny, Rickman has fictionalized the story of the patriotic talented pilots, closely following the original WAFS (Woman Airforce Ferry Pilots), later renamed WASP (Woman Airforce Service Pilots).
On December 7, 1941, Anne Gwynn and her student pilot are on their way back to John Rogers Airport, next to Pearl Harbor Naval Base, when they spot hundreds of Japanese aircraft attacking Pearl Harbor. Landing her small Cub among flying bullets, Anne is aware that the Naval Base for the U.S. Pacific Fleet has suffered mortal damage. What she hasn't yet realized is that her destiny has changed forever.
Flight to Destiny closely follows the actual careers of several women aviators, among the 1,102 women who served their country by ferrying airplanes from the factories to modification centers and to Newark, New Jersey, freeing male pilots for flying in battle.
The fictionalized story is well told with believable characters and situations. Two characters, Nancy Love, head of WAFS, and Jacqueline Cochran, head of WASP are real-life characters in the fictional story.
History buffs interested in military aviation history will find this book a wealth of information. The author, herself a pilot, has described in some detail the various aspects of flying numerous types of aircraft under sometimes dicey situations.
Sarah Byrn Rickman has been researching the WASP for 23 years, interviewing many retired WASP and researching the aircraft they ferried. Flight to Destiny is her fifth book on the subject, joining three works of non-fiction and another novel.
I loved this book and was again impressed with Rickman's rich knowledge of early women aviators and the important role they fulfilled in World War II.
For more information about the author, visit www.sarahbyrnrickman.com/