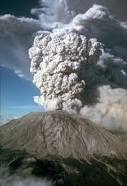 Eruption: The Untold Story of Mount St. Helens by Steve Olson, describes the events surrounding the powerful volcanic eruption of Mount St. Helens in Washington State on May 18, 1980 . Fifty-seven people died as the result of the eruption, either by extreme heat, by falling rocks, drowned in raging rivers, or buried in massive mud slides. Of those known dead, 27 bodies were never found. The eruption laid waste to hundreds of square miles of prime forest, and subsequent land slides and floods damaged or destroyed 200 homes. Eight bridges were demolished, along with more than 185 miles of highways and roads, and 15 miles of railways.
The author delves into the history of the forests and of the massive Weyerhaeuser forest products company. He describes the railroad genius Jim Hill, and the role the Northern Pacific played in developing the northwest. And we learn the important role conservationists such as Gifford Pinchot and John Muir played in the preservation of wilderness.
As the mountain neared eruption, politics came into play, but boundaries of authority were blurred and restrictions inadequate. Common sense seems to have eluded otherwise intelligent people; others kept their distance, but still were caught in the far-reaching devastation.
The blast occurred at 8:32 Sunday morning. If it had erupted that afternoon or on a workday, hundreds more people would have died.
Courageous rescue efforts saved many lives. By the end of the first day helicopter pilots had flown 138 people, 8 dogs, and 1 boa constrictor to safety. In many cases, the Huey helicopters were dangerously overloaded, yet no one was injured or killed in rescue efforts, amazing with the air thick with hot ash and visibility at times near zero. Some were able to walk out on their own. Even though people had been warned to stay away, many came to see a volcano erupt, never dreaming that it would be so catastrophic. Some who died were professionals just doing their jobs—a geologist, a newspaper photographer, and loggers.
Eruption discusses legislation subsequent to the blast, and the Mount St. Helens National Volcanic Monument, created to ensure preservation of the land surrounding the mountain for future generations.
I found Olson's book particularly fascinating. While conducting research for my book Tenderfoot, a romantic suspense novel with the subplot of the Mount St. Helens eruption, I became fascinated by the circumstances surrounding this unique event. Although my story is a work of fiction, I made every effort to keep the facts of the eruption intact. After reading this in-depth study, I felt even more confident that I had followed the events accurately.