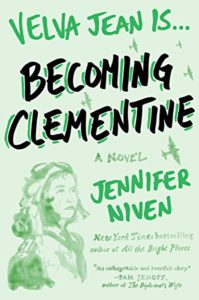 Jennifer Niven has written a third novel in her Velva Jean series, Becoming Clementine. As a WASP flyer during World War II, Velva Jean flies a B-17 Flying Fortress to Britain. After the delivery she volunteers to co-pilot a B-24 Liberator carrying special agents to their drop spot in Normandy, France. Besides wanting the experience of additional flying, Velva Jean has a personal mission to find her brother, a pilot who is missing in action.
The B-24 is shot down and only Velva Jean and five agents survive. Although she's considered a nuisance, she tags along with the five, much to their agitation. Eventually she becomes one of them, a spy with the Resistance and is given the name Clementine Roux.
Clementine's grit becomes a necessary ingredient to her survival as she encounters cruelty dealt by invading Germans. Clementine and the members of the team work toward their assigned goal to capture an operative known only as "Swan." All the while she searches for her brother.
Although some of the situations are a bit far-fetched, I enjoyed this book. For one thing, I find the subject of the WASP's (Women Airforce Service Pilots) of special interest. These brave women did our country a great service, but met with little appreciation and even sabotage by fellow male pilots. I also found the references to French resistance fascinating, and admire the courage and sacrifice required to regain their country from German occupation. Clementine spends some time in prison and, again, learning of those conditions reinforces the atrocities of war.
Despite the gim subject, I enjoyed the humor in Becoming Clementine and the main character's spunk. It's hard to imagine the hardships of war, the loss of life, the lack of basic necessities, and the hopelessness of regaining a normal life. Jennifer Niven does a good job of capturing war-time conditions.
To learn more about the author, visit http://www.jenniferniven.com/