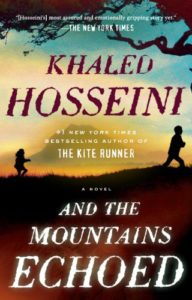 Khaled Hosseini's sweeping novel, And the Mountains Echoed, captivated me with its powerful prose and layered, complex plot.
Abdullah, ten, accompanies his father as they walk to Kabul, Afghanistan, pulling his four year-old sister, Pari, in a wagon. The father's poverty necessitates selling his daughter to a childless wealthy couple, an arrangement made by their valet, the father's brother. Abdullah is heart broken to lose his beloved little sister and hopes some day to be reunited with her.
The little girl's new mother, vivacious Nila and much older father, Suleiman Wahdati, give their only child all the advantages money can buy. When Suleiman suffers a stroke, Nila takes her daughter to live in France.
Pari often feels there is something missing in her life, an emptiness, but can never quite grasp the mystery. War rages in Afghanistan; the Taliban and Russians play their part, but the story is about the people affected by war, by wrong choices, by their own humanness.
The story takes place over a 50-year period, beginning 1952. At times I was confused by a newly introduced character, but eventually realized its significance to the basic story of loss and separation.
I found the ending a revelation as Hosseini brings this complex tale to its conclusion. Hosseini's characters are vivid, his descriptions of the various countrysides—Afghanistan, France, Greece, and the United States—and their cultural differences, realistic.