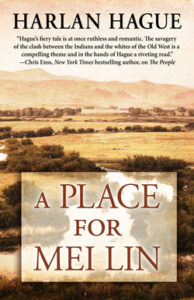 Harlan Hague has written an intriguing historical fiction, A Place for Mei Lin, set in America's Northwest in the early 20th century.
At one time Caleb Willis was blissfully happy with his wife and two children, but when his family all tragically died, he was without purpose, not caring what happened to him. He drifts from Virginia and settles in Idaho's Sawtooth Mountains area and sets up a gold dredging operation near Stanley. On a trip to town, he encounters a young Chinese woman, Mei Lin, who had been sold and pressed into service in a brothel. He witnesses abuse to the woman and comes to her rescue.
Not knowing what else to do, he takes her to his cabin. Their relationship grows, but all the while Caleb, still mourning his family, resists acknowledging his feelings toward his young house guest. Mei Lin, on the other hand, feels a gratitude that turns into love toward Caleb. She's a strong, capable woman who strives to prove her worth.
A Place for Mei Lin is an interesting book on many levels. I have spent quite a bit of time in the Stanley, Idaho area and have seen the old gold-mining dredges and technology described in the book. The author vividly describes the rugged Sawtooth area, giving the novel a strong sense of place. The tragic plight of Chinese during this time is a reminder of our country's bigotry toward a race of people once their services are no longer needed. And lastly, the novel is a tender love story that at first is one-sided, but soon develops, only to be threatened by forces beyond their control.
This is a novel worth your time, written by a skilled story-teller. A Place for Mei Lin is available in print, ebook and audio formats. To learn more about Harlan Hague, visit http://harlanhague.us/