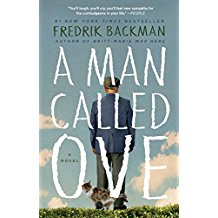 Fredrik Backman's novel, A Man Called Ove, brought me many hours of pleasure. Although it wasn't immediately clear to me, the story takes place in Sweden. There are no descriptive scenes of country-side; most of the action takes place in a housing development that could be anywhere.
Ove would just like to be left alone so that he could get on with his routine, self-appointed chores in peace. But one thing after another gets in the way of his methodical life. For instance: It's perfectly clear that motor vehicles aren't allowed in the housing area and a sign plainly states this regulation. Tenants, and tenants only, are to use the parking lot. But new neighbors not only violate this ruling, they back a U-Haul trailer over his flower bed and flatten his mailbox! Thus begins a series of interruptions, inconveniences and unwanted tasks, all aimed at interfering with his well-ordered life.
The man may be considered grumpy and unyielding, but you can't deny he has principals and that he has no tolerance for those who don't. As he valiantly strives to go about his own business, life, or other people's lives, get in the way. Even a stray cat conspires to complicate his life.
Ove believes most people are idiots. They're incapable, inept. His colorful language, his rages, even his inflexibility give a first impression of a stingy, miserly man. However, when you learn of his back-story, you see another kind of man, a self-made man who loved and has been deeply loved.
A Man Called Ove is a masterpiece. I highly recommend this enchanting novel.
For further information about this author and his work, visit http://www.fredrikbackmanbooks.com/