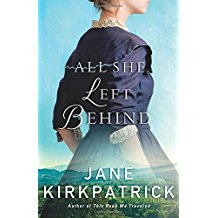 Jane Kirkpatrick has again done what she does best: written a well-researched, memorable novel. All She Left Behind is a compelling historical novel about a true-life woman who longs to become a doctor, rising above an intolerable domestic situation and the barriers placed on women in the mid-1800s.
Jennie and Charles Pickett were married when Jennie was only seventeen. They made their home with her sister and her family, since their husbands both worked at the Oregon State Prison. It was difficult, crowded together with so many people under one roof, but even more so when Charles becomes abusive through his excessive drinking. They have a son and eventually move into their own home, but their troubles continue.
Although she experiences difficulty in reading, Jennie is well-versed in the healing properties of herbs and oils. Finally, abandoned by her husband, left destitute and in debt, Jennie and her son Douglas move into her parents home. She manages to get a job taking care of an older woman, Elizabeth, who suffers a fatal illness. To better care for the woman, Jennie and her son eventually move into Josiah and Elizabeth Parrish's home.
Jennie's life takes an unusual turn with the possibility of life-long love from a man thirty years her senior. Although guilt lingers with the shame of divorce, hope begins to rise that Jennie may even have a chance to pursue her dream of becoming a doctor.
Knowing All She Left Behind is based on actual facts makes this story even more precious. In back of the book, the author has listed "Jennie's Herbs and Oils," with the caution that these remedies should not be used today without proper education and instructions.
Kirkpatrick's All She Left Behind shows how love can bridge age, time, and loss.