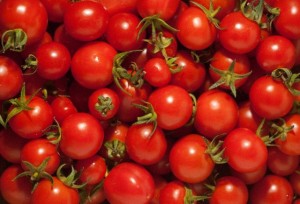 There's nothing like the thrill of picking crunchy carrots or juicy red tomatoes right out of your own garden, or being able to by-pass the grocery store's produce department because you've "grown your own." But is having a vegetable garden a big hassle? Is it really much of a savings? Can only people with lots of time on their hands manage a successful garden? Do you need a lot of space?
With planning, gardening can be rewarding and yet not consume much time or space. For one thing, you can be selective with the types of vegetables you grow, choosing only low-hassle, high-yield products. Examples of high-yield vegetables that furnish a lot of food per plant are tomatoes, broccoli, spinach, green beans, peas, cucumbers, and zucchini. If you grew no more than these, you would enjoy a good supply of vegetables. Even if you only have space for tomatoes, gardening can be tremendously satisfying.
Health-wise, growing your own veggies ensures that you're getting all the nutrients possible from your product because they are picked when ripe. Also, you have control over what sprays, insecticides, etc. have been used.
Money-wise, it most certainly can be a savings. For a very reasonable price, you can purchase starter vegetables in pots. Or, you can start your vegetables with even lower cost by growing them from seed. For instance, one package of snap peas or green bean seeds provides enough for our family with plenty extra to share with neighbors. We usually start our tomatoes from starter plants and all other vegetables are grown from seed.
I no longer care to preserve vegetables by canning, but I do blanch (briefly boil or steam and plunge into ice water) green beans, peas and broccoli and freeze them in meal-size portions. I cook tomatoes, sometimes with zucchini, green pepper and onion, and then freeze containers of the stewed tomatoes for casseroles, spaghetti, or for a tomato side-dish. This may take a few minutes during harvest season, but saves money, time and effort in the winter months.
Vegetables need plenty of sunshine for strong, steady growth, so plant your garden where it will receive at least six hours of sunshine each day. Also, avoid planting in a windy spot as wind will dehydrate plants, requiring more water.
Adding compost–grass clippings, vegetable and fruit scraps–to your garden is a good way to build up mineral-rich soil. We dig a hole in an open spot in our garden each week and dump compost material into it. The next week we dig a new hole, covering the previous hole with the extra soil. It's amazing how quickly the food scraps are absorbed into the soil.
Mulching is also a helpful aid to gardeners. Grass clippings, leaves, straw, or hay placed around the plants allow water to enter the soil, but keep the soil from drying out. Mulch also keeps weeds under control. Make sure that any materials used for compost and mulch are pesticide and herbicide free. Compost and mulching material cost nothing, take little time to prepare, and adds to your garden's efficiency.
What about rototilling? An established garden doesn't need rototilling. If you're creating a new garden plot, rototilling will make your work easier. After one or two growing seasons, turning the soil with a shovel isn't difficult. Whether you use a shovel or a rototiller, the goal is to mix and loosen the soil, allowing the plant roots to spread to obtain nourishment.
What about watering? This is a tough question to answer without knowing specifically the location and soil conditions to be considered. One rule of thumb: water thoroughly, but infrequently. Newly planted vegetable plants and seeds need watering more frequently than established, larger plants. Mature vegetable plants don't like too much water, but they can't thrive on too little moisture, either. Water your plants before they begin to droop.
Don't sprinkle in the heat of the day, water evaporates quickly and it's a waste of water. A soaker hose works well in a garden and is a water and time saver.
Investing a little time planning your garden and you'll find growing your own vegetables fun and economical.
Pass the peas, please.