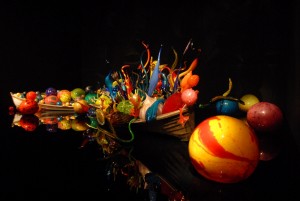 One of Seattle's finest destinations, Chihuly Glass and Gardens, is located at the base of the Space Needle at the Seattle Center. This magnificent exhibit includes three primary components: the Garden, the Glasshouse, and the Interior Exhibits.
A northwest native, Dale Chihuly has led the avant-garde in the development of glass blowing as a fine art. Chihuly was introduced to glass while enrolled at the University of Washington. Upon graduation, he enrolled in the first glass program in the country, at the University of Wisconsin. He continued his studies at Rhode Island School of Design where he later established the glass program and taught for more than a decade. In 1968 he worked in Venice where he observed and later adopted the team approach to glass blowing.
In 1971 Chihuly co-founded Pilchuck Glass School, an international glass art school near Stanwood, WA. He has received wide acclaim, both nationally and internationally, for his innovative and ambitious exhibitions.
At Seattle's Chihuly Garden and Glass, we walked first into the exhibition entrance, then wandered from room to room, each featuring its own impressive theme: Glass Forest, Northwest Room, Sealife Room, Persian Ceiling, Mille Fiori, Ikebana, and Float Boat, Chandeliers and Macchia Forest. Each room bears a theme in spectacular color and texture that flows on floors, ceilings and walls. The walkway leading to the garden is resplendent with chandeliers.
The magic continues in the Garden with dramatic glass artfully interspersed with live plants, flowers and trees. The Glass House, a 40-foot tall structure inspired by Chihuly's appreciation for conservatories, includes a 100-foot long suspended sculpture.
The Bookstore features books and materials relating to Dale Chihuly's artworks. The gift shop has partnered with Northwest companies and many talented artisans to reflect the creative spirit of the region.
The Collections Café features many of Chihuly's private artwork and projects. The menu shows a selection of fresh local food, and serves lunch, dinner, and a weekend brunch. Admission to the exhibition is not required for dining at Collections Café.
A quote from Dale Chihuly: "I want people to be overwhelmed with light and color in a way they have never experienced." At Chihuly Garden and Glass, he meets that challenge. From one breathtaking display to another, we were pleasantly overwhelmed with light and color, and gained a deep appreciation for Dale Chihuly and his great contribution to Seattle culture.
For hours, admission fees and driving directions, visit chihulygardenandglass.com
or call 206-905-2180.