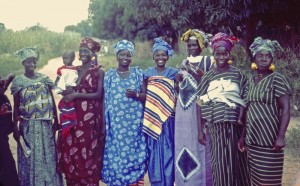 From: Tubob: Two Years in West Africa with the Peace Corps
One late afternoon, I sat in my hut reading and heard my name sung out. I stepped outside and opened the gate. A woman I had counseled about good nutrition for her baby smiled at me. She reminded me that her name was Sibo and that I had visited her at her compound. Sibo carried a basin on her head containing a parcel wrapped in cloth.
When women went to market, or made a formal visit to one another, they dressed up for the occasion. In this case, Sibo wore a nice top with a matching wrap-around skirt, and matching head scarf. I found their clothes attractive. Most tubobs I knew couldn't manage a wrap-around skirt, we just couldn't keep it secure without buttons, zippers or pins.
I invited Sibo into our house. As she lowered her load to the table, I offered her water, which she accepted. She had walked a distance. Her village was well beyond the Health Centre.
After taking a swallow of water, she opened the cloth to reveal perhaps five pounds of rice. Her family had grown and harvested the rice, she said, and it was a gift to me for caring. I was stunned. This was a gift of sacrifice, representing back-breaking work. Not only was the gift wonderful, but she'd walked miles in the hot sun to deliver it. I barely had the Mandinka vocabulary to express my appreciation. "Abaraka," I said, with my hand over my heart. Thank you from the bottom of my heart. Repeated several times, it was about the best I could manage. I brought out my enamel bowl and she poured the rice from her cloth into the bowl, not spilling a kernel.
We chatted for awhile, she looked at our wall hangings, snapshots of our family, a U.S. map and a world map. I showed her our home state, then showed her where she lived. She obviously had never seen a map before. I invited her to see my kitchen and she marveled. By American standards it would be primitive, but to her it was luxury. She surprised me by saying my kitchen was good because I didn't have time to prepare food the way they do, over an open fire.
I heard a motorcycle putter up to our compound, idle while the driver opened the gate, then a quiet rumble as he rode the motorcycle to our door. Many volunteers who lived in outlying areas were issued small motorcycles, some more like motor scooters. The rule was they were to use them only within a fifty mile radius. Dave lived in Fatoto at the eastern tip of the country and often stopped by when in our area. After I introduced them, he launched comfortably into Mandinka with Sibo.
After a short while, Sibo said she must return to her home to prepare dinner for her family. Dave offered to give her a ride on his motorcycle, but she declined, laughing. When I said, "Sibo, why don't you? It would be so much faster," she hesitated. Dave turned his motorcycle around and said, "Na." Come. Much to our amazement, she hiked up her skirt to climb on, covering her legs as best she could. Dave indicated that she had to hang onto him. She stood her basin on end between them, then hung on and they took off at a sedate speed. She grinned back at me. What a sight.
Gambian rice has a rich, nutty flavor and takes a bit longer to cook than our processed rice. We ate it soon because it had limited shelf life. I didn't want this precious gift to become chicken feed.
**Note: To leave a comment, please click on "Reply" below