Mary E. Trimble writes memoir, mainstream and coming-of-age novels with contemporary western settings.
Latest Release!
Extraordinary life changes are in store for Maureen Gardner when she responds to a help-wanted ad. A professional woman, victim of a double betrayal, Maureen is more than ready for a change. She moves to eastern Washington where rancher John Cahill, mourning his wife's recent death, is desperate for someone to care for his seven-
year-old daughter and oversee his household. Will destiny find a way through pain and disappointment?
"…When Maureen Gardner answers the Cahill family's plea for domestic help, she joyfully discovers her ability to rescue this desperate family. Yet, what surprises her most is how they rescue her."
—Mary Ann Hayes, Author of The Trouble with Tony
To learn more about Maureen click here
To order Maureen click here
~~~
OTHER BOOKS BY MARY E. TRIMBLE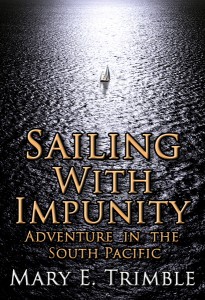 Sailing with Impunity: Adventure in the South Pacific
Sail with Mary and Bruce on their 13,000-mile adventure from Seattle to legendary South Pacific Islands and home again. From magical sights and scents of their first tropical island landfall to the bustling, colorful Tahitian markets. From sudden midnight squalls and weathering a cyclone in Samoa to pristine anchorages in the Kingdom of Tonga. Share the adventure as they fulfill their dream.
"… I had no idea what it meant to really sail or to truly be a sailor until devouring this beautiful and often chilling memoir of a couples' unfor-gettable South Seas adventure. If you read nothing else this year, read this!"
—Mary Ann Hayes, author of Adeline and other books
To learn more about Sailing with Impunity click here
To order Sailing with Impunity click here
~~~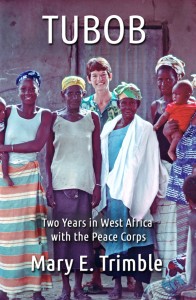 Tubob: Two Years in West Africa with the Peace Corps
A memoir, Tubob: Two Years in West Africa with the Peace Corps, describes our life in third-world country The Gambia. As Peace Corps volunteers, we struggle with cultural differences and do what we can for people who are often reluctant to change. Hardships abound, but so do strong friendships. Humor is abundant, but so is misery. Early on, we newlyweds were told that Peace Corps would either make or break a marriage. We find out how true that is.
"…a true story of immense beauty, love, and frustration…From page one, I was captivated and anxiously followed this unforgettable journey." — Mary Ann Hayes, author of The Mischief Chronicles  
To order Tubob, click here
~~~
Tenderfoot
Finalist for 2010 SPUR AWARD in the Best Novel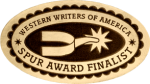 of the West category
A romantic suspense, Tenderfoot takes place on a working Northwest cattle ranch in 1980, the year the world remembers for the catastrophic eruption of Mount St. Helens. Corrie Stephens is eager to learn about ranching, but reluctant to become involved with a man – it's just not worth the heartache. Rancher J McClure, on the other hand, has been alone too long. Tenderfoot draws the reader into the story's strong emotions based on family, love, and the first-hand adventure of the eruption of Mount St. Helens.
"…a finely told tale…above all, Tenderfoot is a story about love: love of the land, love of each other and love that forgives and moves on. A page turner and a delight."
–Jane Kirkpatrick, award-winning author of historical novels of the American West
 Read a recent review of Tenderfoot here
To order Tenderfoot click here
~~~
McClellan's Bluff
Leslie Cahill, now seventeen, falls in love with an "older" man, twenty-eight year old Sloan Stroh. She's flattered by the attention of this neighboring cowboy and is swept along by her strong emotions. Sloan dominates Leslie's every moment, in her mind at least. Leslie's father and brother strongly object to Leslie and Sloan's relationship not only because of the considerable age difference, but because they do not trust Sloan's intentions. Leslie learns Sloan's dark secret, which dates back many years to her mother's death. A fast-paced coming-of-age story, McClellan's Bluff is set in Washington's ranch country.
"You can see more from McClellan's Bluff than Leslie Cahill ever imagined. Mary E. Trimble's novel for young adults continues the story of the Cahill family: John, his son Wade and daughter Leslie. Both John, a widower, and Wade, eager for a family of his own, manage to take enough time away from their Circle C ranch to find romance. Leslie, on the other hand, loses interest in her high school friend, Jordan, when Sloan Stroh breezes into town and gives her a look she can't get out of her mind.
McClellan's Bluff, which picks up where Rosemount leaves off, is a fine novel in its own right: colorful setting; challenging characters; fast moving plot. Mary E. Trimble has written another story too good to pass up."
–Gloria MacKay, Radio Commentator and author of Chalk Dustings
To order McClellan's Bluff click here
~~~
Rosemount
When Leslie Cahill, a rancher's daughter, learns that her father plans to enroll her in Rosemount Academy, an exclusive girls' school in the city, she puts up every resistance she can muster. She doesn't understand the motivation behind his decision and feels rejected. Leslie loves her home, her life. Her greatest joy is riding her Appaloosa mare, Polly, over Eastern Washington's rolling hills.
Leslie fails to change her father's mind and resorts to a more drastic plan. As a runaway, Leslie finds herself in Eastern Oregon's wilderness and its sprawling ranch country. She is unprepared for the trials that beset her – harsh land that presents frightening challenges and people who take advantage of her vulnerability. Along the way she also discovers kindness among strangers who help her find strength within herself to survive.
"Thoughtful and entertaining, ROSEMOUNT is a fictional account of an all too common story … of a teen running from home. ROSEMOUNT clearly demonstrates how a successful, happy teen can resort to extreme action when no other options seem available."
–Cindy Penn, WordWeaving.com
To order Rosemount click here
~~~
Mary is also the author of over 400 magazine and newspaper articles covering travel destinations and articles of interest to homeowners.  She lives on Camano Island, WA with her husband Bruce.